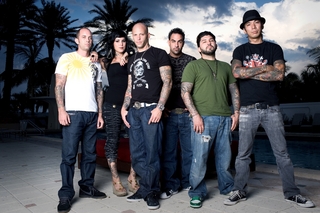 This is one of my favorite tv show on traveling channel in Taiwan.
The story talk about 4 artist, 5 friends (Ami James, Chris Garver, Darren Brass, Chris Nunez,and apprentice Yojiro Harada)
and their tatoo business. You can see how they work, their beautiful creation, and communication with their customer. true and real, i like it.
following information was from wikipedia
cause my english is poor, so i hope this can help u get more about this show.
Official TLC Channel Miami Ink Website
Miami Ink is both the name of a tattoo shop on Miami Beach, and the title of a reality show on TLC which films the events that take place there. The shop is co-owned by artists Ami James and Chris Nuñez, and also features artists Kat Von D, Chris Garver, Darren Brass and Yoji Harada. The show exhibits the process and finished work of these entrepreneurial tattoo artists by featuring a number of customers along with their backstory and motivations for their tattoos.
Yoji started working at the shop as Ami's apprentice, and performed much of the support work such as cleaning, and general errands while studying and practicing the art of tattooing. He has subsequently begun to accept paying customers, though the skill he demonstrates on the show is still not yet at the level of the other artists. California artist Kat Von D joined the shop during the first season while Darren was unable to work due to an injured arm and has continued to make semi-regular appearances in later episodes. Ami narrates most episodes, with Chris Nuñez occasionally filling in, by recounting the story of each of the featured customers. The main musical theme for the show is "Funky Kingston" by Toots and the Maytals.